Now that summer has arrived in Ontario, you may be daydreaming about an epic road trip or a camping adventure of a lifetime. And let's face it – it's been too long since our last real summer vacation, which is reason enough to start planning for a magical summer right away! 
TAZA is here to kickstart your summer with a great music festival featuring an all-time favorite Bollywood legend: Kumar Sanu! 
Event | Saturday, 2nd July 2022 
TAZA brings to you a LIVE, in-person takeover in the heart of the city by Kumar Sanu, Udit Narayan, and Alka Yagnik on Saturday, 2nd July 2022. 
The concert will take place at CAA Center in Brampton with TAZA Foods as the official food partner and sponsor of the exciting event. 
World-renowned Bollywood singer, also known as the King of Melody in Bollywood, Kumar Sanu is a sensational vocalist and composer. He has composed music for various Indian films and his songs are internationally acclaimed. With his remarkable voice and soulful lyrics, some of the songs transcend beyond mere entertainment. The much loved artist will be performing in Ontario after nearly two years of COVID-19 lockdowns and restrictions. Book your tickets now and immerse yourself in this live, once-in-a-lifetime experience!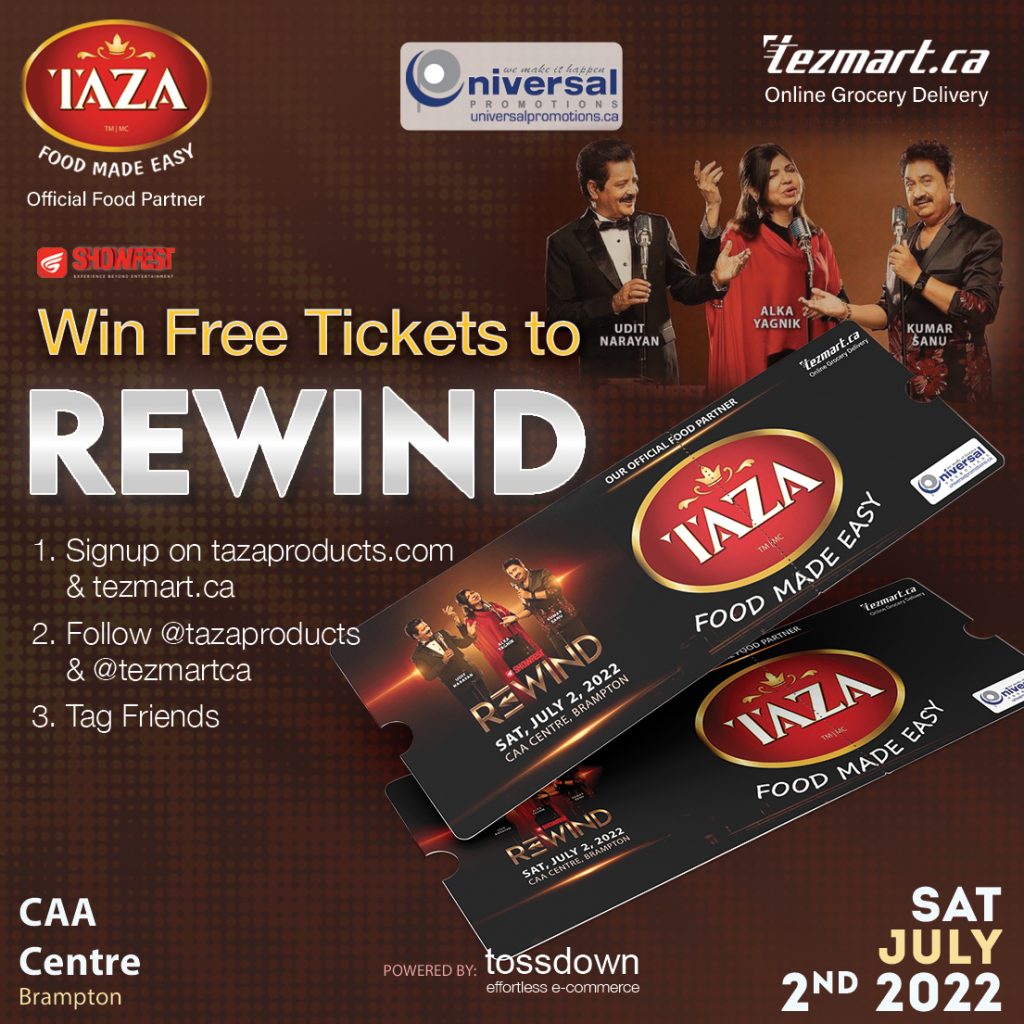 TAZA Foods | About Us 
TAZA foods recognizes the growing demand of halal, ready-to-cook meals within the rapidly growing South Asian communities of Ontario, Canada. We aim to provide healthy, nutritious Pakistani and Indian cuisines ranging from 100% halal fresh and frozen meat products to bakery items. Recently, we've expanded our product range to include ready-to-cook vegetarian meals for customers. Our universally loved frozen parathas complement our other products to give you a taste of home. 
Our newest, and perhaps most exciting product yet, is our Cup A Bhel (Bhel Puri) inspired by cup ramen (instant noodles). Craving the exotic flavors of Indian street food? We've got you covered! With just a few minutes of work, you now have a delicious cup of crispy puffed rice tossed in sweet and spicy chutneys! 
To deliver optimal freshness, we make sure to use air tight and vacuum sealed packaging and clearly label each product with the date it expires. Our production facilities and manufacturing processes are designed to provide quality and affordability. We keep customer trust and acceptance at the forefront of our production process.