Like in any cuisine, bread plays an essential role in Asian culinary traditions. And when it comes to Asian cuisine, one can't overlook the incredible naan – a leavened, oven-baked flatbread that is soft, puffy, and absolutely irresistible. Naan is best for scooping up gravy, as a pizza foundation, buttered, grilled, toasted, or even on its own!  It also goes amazingly well with BBQ items like seekh kebab, malai boti, and chapli kebabs. A little imagination goes a long way with Naan.
There are different varieties of Naan available, and you can enjoy the ones that perfectly match your taste and preferences. From the classic plain naan to Tandoori or Qandhari Naan, the choices are endless. And it doesn't stop there…you can also add more versatility to your naan bread by just brushing it with freshly infused garlic butter and pairing it with some thick & luscious butter chicken. 
It has a beautiful contrast of fluffy softness and crispy, bubbly brown spots. This pillowy tandoori baked goodness is ideal for mopping up curries and enjoying with stews and other dishes. Naan offers endless possibilities for enjoying its deliciousness to the fullest.
Dal Makhani with Tandoori Naan
Dal Makhani is just one of many rich dishes that go perfectly with Tandoori Naan. It's a combination of dried lentils and spices cooked in a creamy tomato sauce.  While you're preparing your Dal Makhani recipe, we recommend serving it with our delicious pre-baked Tandoori Naan! 
This deliciously flakey flatbread will soak up all the flavours from your curry without getting soggy like regular bread…and no one wants soggy bread when they're having such a good time eating their favorite meal!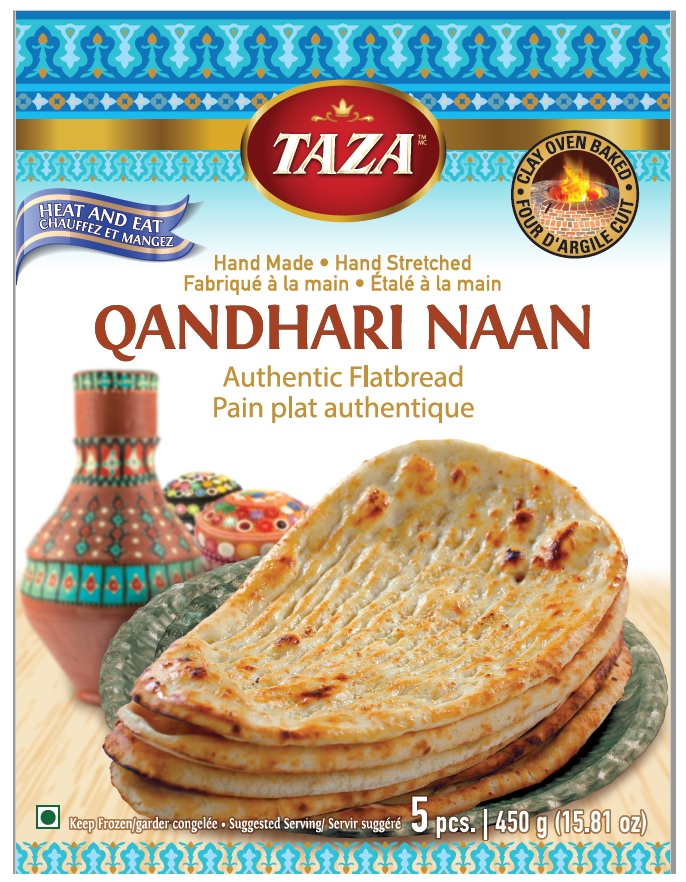 Butter Chicken with Qandhari Naan
To prepare this dish, start by coating tender pieces of chicken with a rich sauce made from a blend of tomatoes, butter, and cream. While relishing this with some crisp & fluffy Qandhari Naan, it's impossible to overlook the ever-popular chicken tikka masala—a classic that shares the chicken and tomato sauce foundation. It's similar to butter chicken but has less cream…just enough to give it a creamy texture without overwhelming the other flavors in this rich meal. 
Pindi Chole with Roghni Naan
Pindi Chole is a delicious chickpea curry with spicy tomato gravy. When cooked, the chickpeas take on more of a thick, creamy texture with a subtle crunchiness that makes them an excellent pair for your Roghani Naan. 
It's no wonder that Pindi Chole goes so well with Roghani Naan. Both have distant flavors…one being sweet, the other being salty and a bit sour. The consistency also works well because it lends itself well to dipping into gravy.
You can make your naan bread at home, but if you don't have time to make your naan bread, store-bought is a great alternative for quick, fast meals.
If you haven't tried these combinations before, make sure you do it today and pair them with TAZA frozen flatbreads.