With meaty Eid just around the corner, our hearts are filled with warm anticipation, and our appetites are ready for a delicious feast. Eid is all about delicious food and family gatherings, especially "the meat". It marks the beginning of the BBQ season and protein-packed mutton dishes. TAZA's Meat Up range has everything you need to make this wholesome festive holiday more exciting. Whether you're hosting a grand festive dinner or looking for quick and convenient snacks to enjoy on your Eid evening, TAZA has got you covered! 
TAZA's Meat up Delights
To make things even easier, TAZA products are conveniently packaged and ready to cook, meaning you can enjoy a delicious meal in no time. So what are you waiting for? Get your grills sizzling and explore the TAZA Meat Up range this Eid season!
TAZA samosas
What's Eid without the irresistible crunch of samosas? TAZA presents a tempting snack for your special guests with our savory beef samosas. With each bite, you'll experience the perfect harmony of flavors, as the tangy beef filling complements the crispy pastry shell. These golden treats are not only a celebration of Eid but also a convenient way to add some tradition to your festivities. And if you're looking for variety, explore our wide range of Meat Up samosas and rolls. For those seeking a lighter option, our chicken samosas and vegetable samosas are excellent choices. And don't miss out on our flawlessly round and crispy falafel for a delightful burst of textures!
TAZA kababs
It doesn't just stop there!  We know how challenging it can be to deal with all the meat and prepare amazing dishes in a single day. That's why…this Eid, add a twist to your traditional kababs with TAZA's Kabab to satisfy all meat lovers. From the tender bun kababs to reshmi kababs & shami kababs, these meaty snacks will be the stars of your Eid feast. And wait! How can we forget about the juicy beef burger patty?  Grill it to perfection, allowing the smoky flavors to mingle with the meaty goodness. Top it with crisp, fresh veggies and sauces & make delicious burgers for everyone.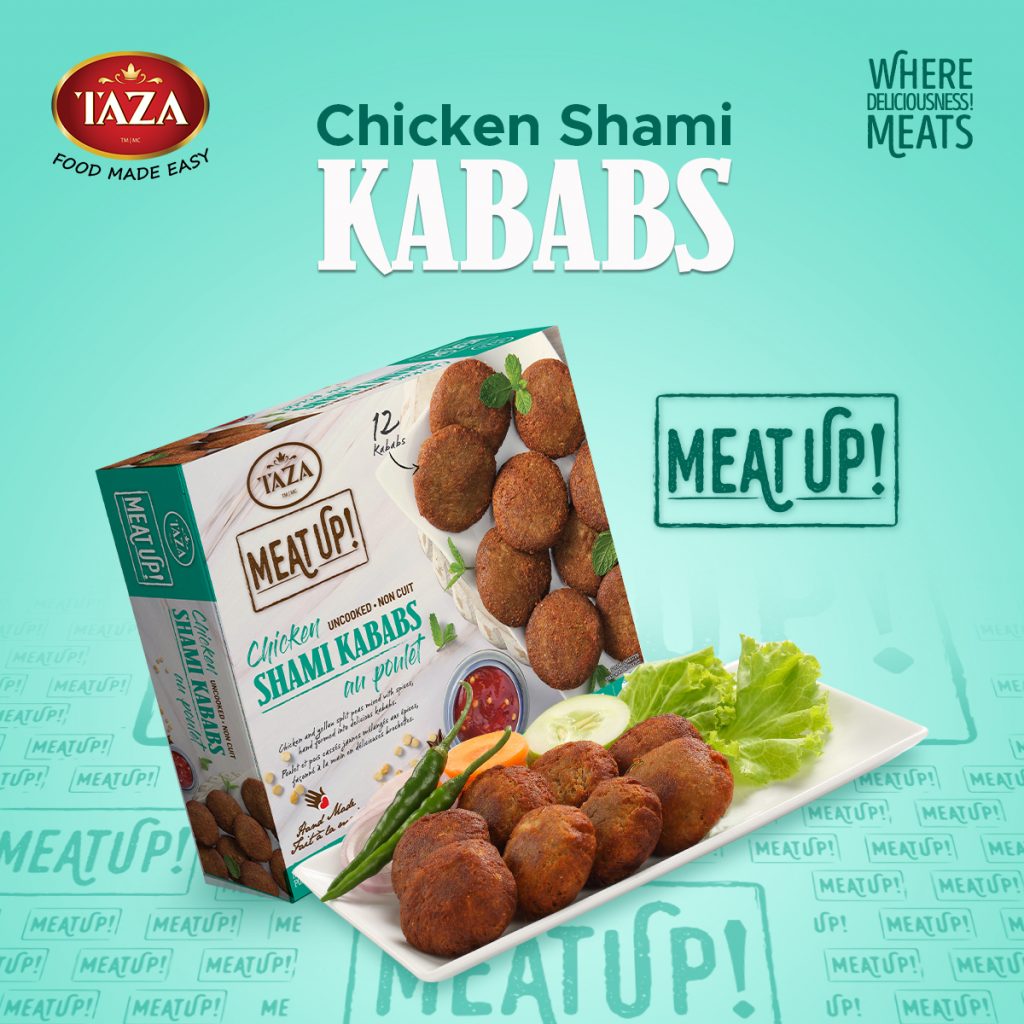 Too much meat to handle?
When you find yourself crowded with meat, try TAZA's Meat Up Chicken range! For those moments when you need a quick and satisfying snack, our chicken nuggets and chicken strips are your ultimate go-to options. These tender strips of chicken are perfect for creating a flavorful wrap for a post-Eid family picnic. The possibilities are endless, so get creative and enjoy!
We understand that Eid ul Azha is more than just about meat. It's a time for bringing people together, making memories, and spreading happiness. That's why TAZA has carefully selected a variety of naan and parathas to complement your meat dishes. From fresh plain chapati to fatty parathas and soft naan that add an extra kick, TAZA has considered every detail to make your festive experience truly unforgettable.
So, gather your loved ones, fire up the grill, and let TAZA's Meat Up range take you on a meaty adventure like no other!