Did you recently buy some frozen vegetables but now you're questioning the health aspect of consuming frozen produce? Well…don't, because technically there's nothing to worry about. If you are the kind of person who needs veggies in every meal, frozen veggies are going to be your savior. 
One of the main reasons why people are into frozen veggies is because they don't want to waste any time. Preparing veggies for every meal, especially for a desi meal can be tiresome. People these days are big-time advocates of the "time is money" phrase hence, it is applied to every detail in life. You pull out the frozen veggie packet from the freezer, stir fry them, and you've got yourself a quick, easy and healthy meal. 
For people who feel meh about frozen veggies – these can be a healthy addition to your daily diet. Frozen veggies are frozen right after harvest so they retain many of their nutrients. Consider the freezing process of veggies as a pause button on the nutrients and vitamins. These do have an expiry date so until then you get all the required nutrients you're looking for. 
There are different types of frozen veggies that you should be aware of while adding to your grocery list. Some of the frozen veggie packages have preservatives and spices added to them so that they are easy to cook. While these spices and preservatives may not always be harmful, they might add to the calorie count (read: sugar and salt overload!). If you are cutting back on your calorie intake, you might want to go for some plain frozen veggies.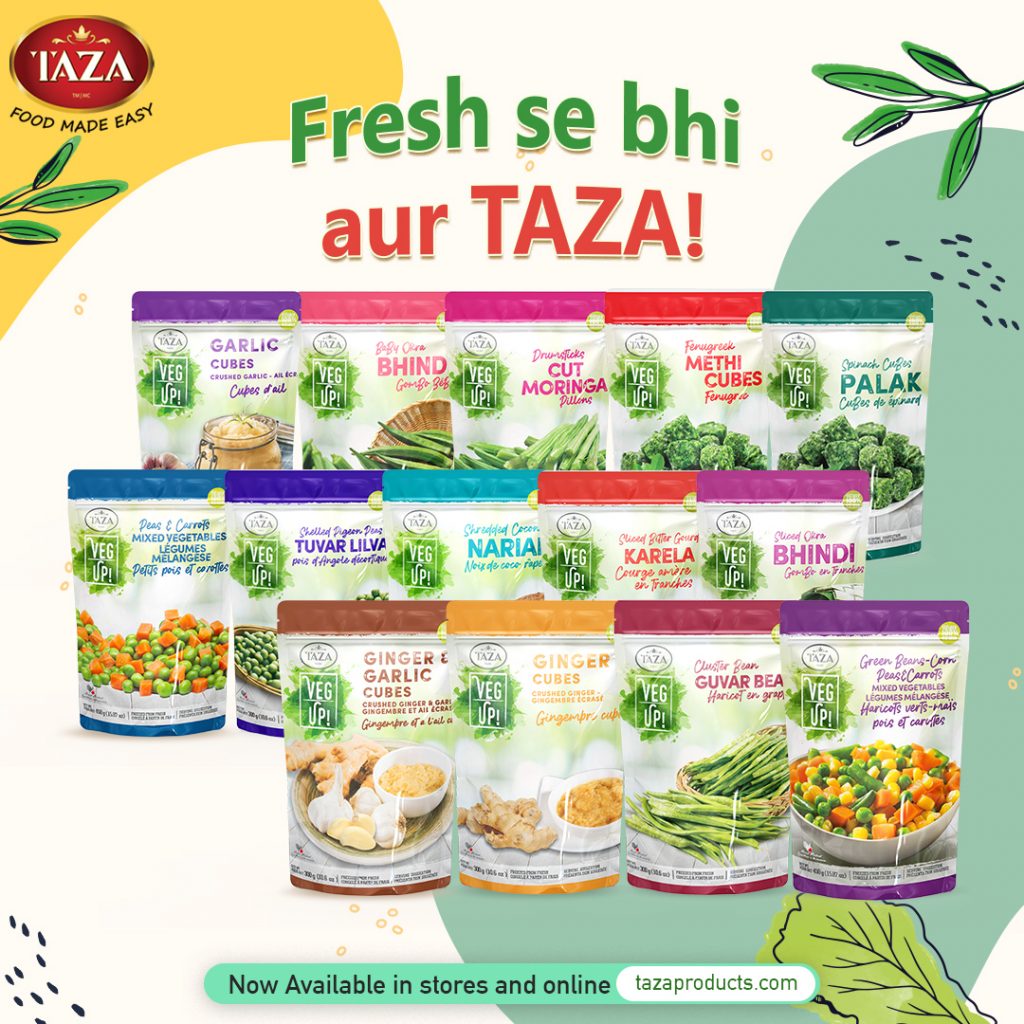 TAZA's frozen veggies for a balanced meal
Here's some terrific news! TAZA just recently launched its own spectacular variety of Frozen Vegetables! Get your favorite frozen veggies from TAZA's website under the frozen vegetable section for a quick and healthy meal. The best part is that all of the veggies are organically sourced and then frozen without any preservatives or artificial flavoring. 
There is a huge variety of frozen exotic veggies that you can choose from like palak, sliced karela, slice okra, shredded coconut, garlic cubes, etc. Once you start browsing through our vegetarian options you might also want to check out our Veg Up bundles. These have all the desi veggie snacks like Pani puri, potato cutlets, mixed veg kebab, and more that require little to no preparation. 
You can also check out our frozen meals section for quick and tasty desi meals. 
This Holiday season, spruce up your menu with some delicious vegetarian options! Find TAZA products in nearby stores or order online for super convenience.